CIDERS WITH INTENTION
In 1903, The Long Ashton Research Station near Bristol, England, established four different classes of Cider Apples: Sweet, Sharp, Bittersweet, and Bittersharp. Any cider apple should ideally have high levels of sugar for fermentation, so the difference between them is in their levels of tannin and acidity. The most common variety of cider apple is the bittersweet, with good tannin and low acidity.
Below are examples of the varieties that are used in all of our blends.
Note: Most ciders are blended to balance flavors.
Our favorite sharp dessert apple was bred in Australia in 1973 by researcher John Cripps. With high sugar and a higher acid level this dessert fruit is good both for eating and making cider. We consider this an excellent blending apple and use it in many of our ciders.
This English cider apple that was discovered in Someret around 1850. It is presently one of the most popular modern cider varietals. It is Bittersweet with distinct tannins and low acid. Nice flesh for pressing.
Originating in Kazakhstan, this sharp apple with very unique red flesh that, when crushed, reveals a beautiful pink juice. Its flavor is tart and reminiscent of red berries. It blends well with lower acid apples or can be made into an excellent single varietal cider.
An English cider apple that first appeared in Somerset in the early 19th century. It is regarded as the perfect cider apple that is often used to make a single varietal cider. It is classified as a bittersharp with notable spice notes and medium acidity and mild tannins. Easy to press.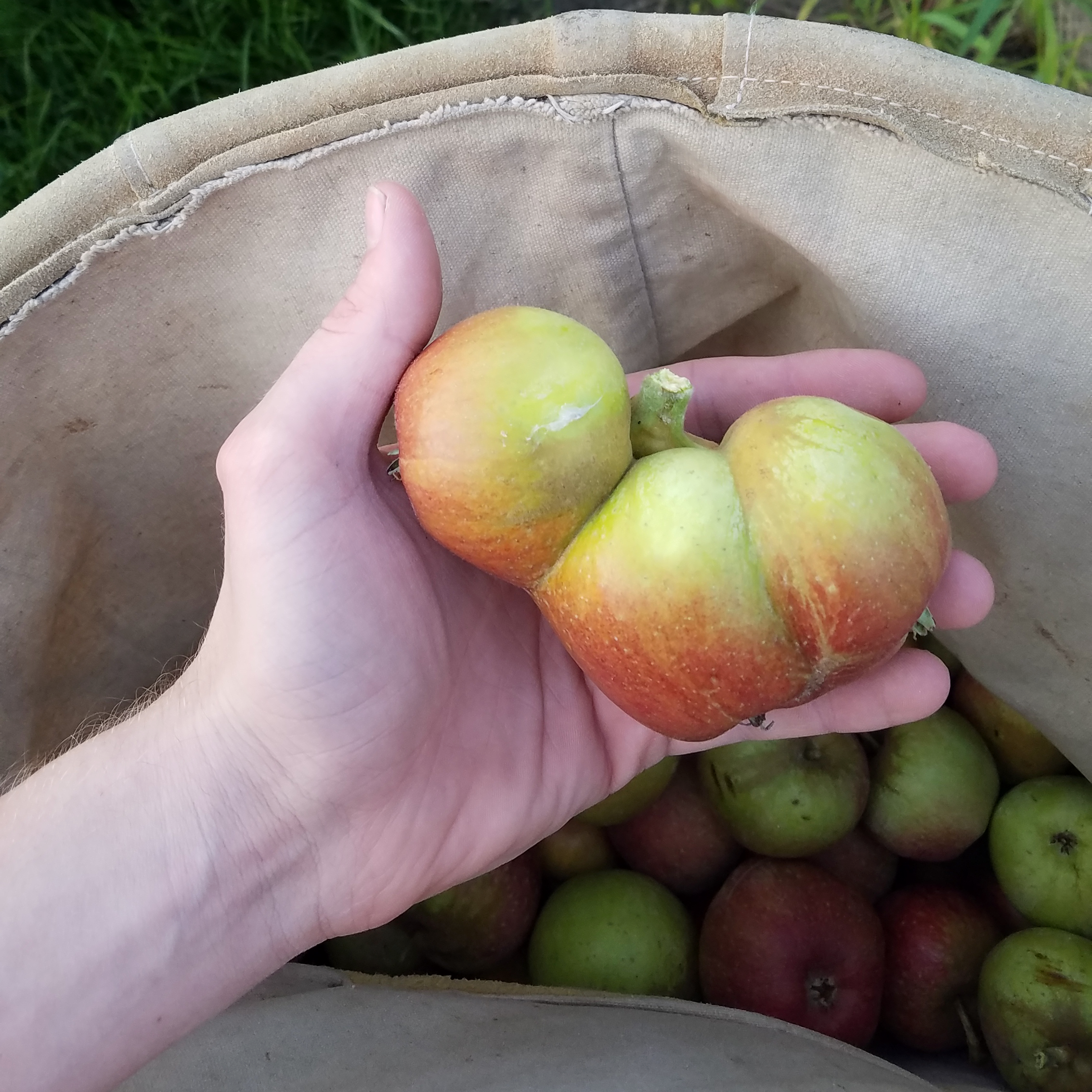 his English cider varietal was propagated in 1907. As a bittersharp with high acidity and medium tannins it is a great apple for blending. Curiously, this apple grows in clusters and tends to fuse with the apples around it creating unique doublets and triplets.
A bittersharp crab apple high in acid and tannins, it is most commonly used as a pollinator for dessert apples. This apple is the smallest and has the highest sugar content of all our varieties. It is excellent for blending.
An English cider apple that was used as early as the end of the 19th century. It is a bittersweet apple that is high in sugar with high tannin and low acidity. This is one of our more difficult members. With fine grained flesh that can be hard to press we use rice hulls to help extract more juice during the process. In our valley this variety is very susceptible to fireblight making it difficult to grow as well.
This sweet dessert apple is excellent eating as it is both low in acid and tannins. It also has some nice citrus notes that are a favorite of ours in blending.
Originally from Germany, this hybrid was used for our first experiments in cidermaking. Today, we still use this variety for blending.
TERMS USED FOR CIDER
Apple Juice: Non-alcoholic fresh pressed apple juice.
Hard Cider: Fermented apple juice
Sharp Ciders: High in acid, low in tannins.
Sweet Ciders: Low in acid, low in tannins, higher in sugar.
Tannin: Astringency and bitterness in cider.
Bittersharp: High in both acid and tannins.
Bittersweet: Low in acid and high in tannins.